As interest increases in native plants for ecological landscapes, growers and nurseries are meeting the demand through increased production of native plant cultivars (nativars) and through asexual propagation methods like cuttings, grafting, and tissue culture.
While asexual propagation is perhaps the quickest way to produce large quantities of plants in order to meet demand, a landscape composed entirely of clonal plants (even if they are native) does not offer the same level of ecosystem services as a genetically diverse landscape grown from locally-sourced seed. Co-sponsored by ELA and New England Wild Flower Society, this program is intended to raise awareness of the many aspects of this important topic. The audience for this event will be landscape designers, landscape architects, conservation and restoration specialists, growers, and others in the landscape field. We hope that this discussion will reveal current research into the ecological value of nativars and other asexually propagated native plant species, and address the challenges of meeting the demand for genetically diverse native landscapes.
In the midst of many opinions, this  July 27 ELA workshop at Garden in the Woods brings together several experts on the topic to bring clarity and guidance on the topic.
Presenters and Panelists:
Cayte McDonough is the Nursery Production Manager for New England Wild Flower Society's Nasami Farm Native Plant Nursery based in Whately, MA. For the past 15 years she has worked to propagate, cultivate, understand, and promote New England native plants. McDonough and her colleagues collect seeds in the wild with permission from landowners. They collect from large populations to ensure genetic diversity and limit their collections to 20 percent of the available seed to minimize the impact on the population. She also enjoys learning about native pollinators and supporting local farmers.
Michael Piantedosi is the Seed Bank Coordinator of New England Wild Flower Society and is currently working with Seeds of Success (SOS), a native seed collection program led by the Bureau of Land Management. SOS collects wild land native seed for research, development, germplasm conservation and ecosystem restoration. The ultimate goal is to ensure the availability of genetically rich, regionally adapted native plant materials to restore, rehabilitate and stabilize lands in the United States.
Mark Richardson oversees the New England Wildflower Society's botanic garden, Garden in the Woods in Framingham, Massachusetts and its native plant nursery operation, Nasami Farm in Whately, Massachusetts. He studied ornamental horticulture at the University of Rhode Island and helped run a mid-sized ornamental plant nursery before finding his true passion in public horticulture. He led undergraduate programs at Longwood Gardens, overhauled the curriculum of the Professional Gardener Program, and oversaw adult education at Brookside Gardens. In 2013, Mr. Richardson assisted with the development of the first comprehensive master plan for Garden in the Woods. He holds an MS from the University of Delaware's Longwood Graduate Program.
Peter van Berkum, along with his wife Leslie, started Van Berkum Nursery (VBN) in 1986. VBN is a wholesale perennial nursery specializing in natives, shade perennials, and Wicked Ruggeds – plants that perform well and last a long time in New England landscapes. Peter has a degree in Plant Science from the University of New Hampshire, spent a year studying horticulture in the Netherlands, and worked at several nurseries before starting VBN. He is a past president of the New Hampshire Plant Growers Association, as well as a founding member of the New Hampshire Horticulture Endowment. He and his wife were recipients of the Massachusetts Horticulture Societies Silver Medal, and Peter was the Perennial Plant Association's Grower of the Year in 2013.
Laney Widener is the Botanical Coordinator at the New England Wild Flower Society with a background and research on plant genetic differences.
Annie White is a Horticultural Researcher at the University of Vermont and owner of NECTAR Landscape Design Studio & Consulting. Annie has a PhD in Plant & Soil Science from the University of Vermont and a MS in Landscape Architecture from the University of Wisconsin-Madison. For years, Annie worked as an ecological landscape designer and continually saw native cultivars being substituted for native species in her designs. Recognizing a lack of research to support this, she began researching the topic herself as a PhD student. Using replicated research methods, Annie has evaluated about 20 native cultivars in comparison to the native species for pollinator preference, floral abundance, bloom duration, and hardiness. Her research was funded by a SARE Partnership Grant and the New Hampshire Horticultural Endowment.
$30 for ELA and NEWFS members, $40 for nonmembers. See more at: http://www.ecolandscaping.org/event/what-role-do-nativars-play-in-an-ecological-landscape/#sthash.NTcIk8Ne.dpuf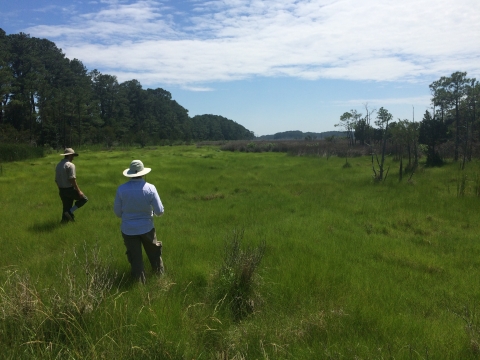 ---